Bosma-Controls introduces new Liquid Level Controller LLC-D3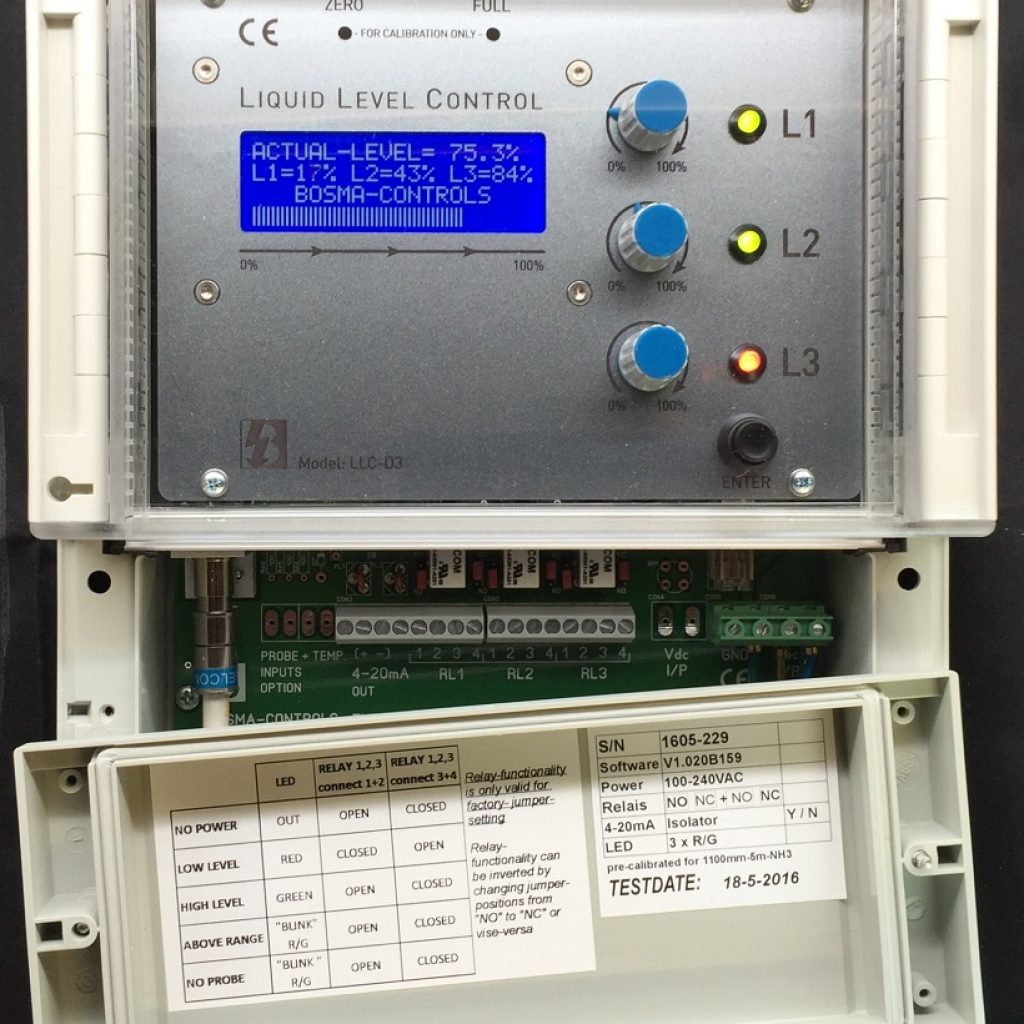 The Bosma-Controls Liquid Level Controller LLC-D3 is the ideal successor of the good old NCA and LLC-221/LLC-222/LLC-223. The LLC-D3 is both designed and built in Holland. More than 50 year experience in the refrigeration industry resulted in this latest design. The LLC-D3 controls the refrigerant level in high and low pressure condensers, evaporators and chillers. The LLC-D3 must be used in combination with excisting or new Bosma-Controls "P-" sensors with length 390mm -> 1800mm. These sensor operates according to the capacitive measuring principle being unaffected by pressure, foam, splashing and coating.
As the level rise's and material begins to cover the sensing element, the capacitance within the circuit between the probe and the media (conductive applications) or the probe and the vessel wall (insulating
applications) increases. The LLC-D3 Liquid level controller detects this change, displays the status on a good visible 4×20 back-light LCD-display and generates relay actuations and a proportional 4-20 mA output signal.
Main Data:
Easy interchangeable in the place of any classic Bosma model LLC-221/LLC-222/LLC-223
ONE the same unit is compatible with ALL old & new BOSMA Measuring Probes with coax-connector, probe-lengths 300mm→1800mm for NH3 and other fluids !!
Probe-failure warning and fail-safe functioning
LCD-display 4 x 20 digits
Turning knobs for setting the L1,L2 and L3 levelswitches
Bi-colour LED's Red/Green for status levelcontacts
Easy setting and adjust:

Push buttons for ZERO and for FULL-calibration in the field !
Hysteresis / Average / Delay programmable via ENTER button

Powersupply (two versions):

100-240V-AC, 50/60Hz OR
18-36V-DC/10-24V-AC

Output 3 x standard DIL relay each with DOUBLE output:

Form A (NO) + Form B (NC) outputs for each relay (other configuration possible through changing jumper positions)
Max. switching voltage 220V-DC, 250V-AC
Rated current: 3A, Electrical endurance at 30V-DC/1A typ. 5×10^5 operations, at 230VAC/0.5A typ. 3×10^5 operations. Mechanical endurance typ. 15×10^6 operations

Output 4-20mA, load 600Ω max, fully-isolated
Size cabinet: 260 x 234 x 85mm (H x W x D)
Powerconsumption: 3 Watt